I am a Swedish novelist who have published 12 books to this date. I was born in Malmoe in 1955 and grew up in Stockholm. I have studied History, Literature and Philosophy at three different universities and held a number of odd jobs including Christmas tree salesman, copywriter, postman, night-porter, t-shirt designer, movie extra, theatre critic and bouncer in a Hong Kong nightclub. I have travelled extensively and lived in places as diverse as Göteborg, Uppsala, Paris, Brighton, Marbella, Sarasota, Evansville, Hong Kong, Melbourne, Brooklyn and Öland. Currently I live in Stockholm and divide my time between writing and teaching creative writing. I am married and have two children.
My books were published in the following order:
Sara – 1979, Melvins gränd – 1982, Blåvalarna, bruket och snön – 1985, Ängeln – 1987, Petra, den 7 december – 1988, Hundarnas stad – 1988, Det var en sorts kärlek – 1992, Myakka – 1994, På natten korsar båten floden – 2002, Kvällarna på San Siro – 2003, 49 dagar i bardo – 2005, Minnen från framtiden- 2009
Both Ängeln (The Angel) and Myakka are translated into English by Steve Klass but not yet published. Below is a description in English of my latest novels.
If you want to get in contact with me, send an e-mail to
stefan(a)stefangurt.se
For international rights, please contact Susanne Widén at Bonnier Group Agency.
Phone: + 46 (0)8 696 89 13. E-mail: susanne.widen@bonniergroupagency.se
Minnen av framtiden (Memories of the future) – 2009
"Possibly this is his masterpiece."
Jan Arnald/Arne Dahl, Dagens Nyheter
Memories of the Future is an extraordinary love story with a touch of science fiction and also a thrilling tale of travels between different levels of time and lives, between planets, continents and various media.
It's Beijing in 2017.
The young, Swedish woman Li starts remembering things, strange things, which seem to have happened in the future. They don't particularly worry her. The earth is old and dying. But she is young still, and living a carefree life, working both as a model and in a restaurant. The nights out tend to become longer and longer, and she needs more and more pills to help her stay awake. No wonder she feels a bit confused at times.
One night she encounters Steven Newhouse, a rock musician said to have commited suicide eleven years earlier, and who is now an idolised myth, on the run from the people who wished to see him dead. He declares that he knows her from the future, and she follows him on a trip around the world, to New York, Melbourne, Paris, Stockholm and back to Beijing and then even further away. At last they reach the future.
Stefan Gurt's wonderful style of writing visualizes the fantastic, seething, smart life in the future metropole of Beijing, where occasional old-fashioned spots create a secretive backdrop for incidents out of the ordinary.
49 dagar i Bardo (49 days in Bardo) – 2005
This wonderful family saga begins when Erik, on his way home from the dentist's, suffers a stroke and dies. To those around him he is dead, but Erik himself is in "bardo", described in the Tibetan book of death as the state between the moment of death and a new incarnation. Unable to make himself known to others, he follows his wife's arrangements for his funeral and the preparations for his extended wake with a certain amount of irritation, but he also meets old acquaintances in the kingdom of the dead. Memories unfold, along with scenes from his childhood and his passionate love for Anna, whom he marries. The narrative gathers pace and branches off with breathtaking speed into tales of children and grandchildren, friends and neighbours, moving from Stockholm to Paris and even further afield, all woven together in an intricate tapestry of life.
"49 days in Bardo" embraces its characters, their ambitions, dreams and shortcomings with tenderness and humour. Love affairs that fade are bathed in a sensual glow that stays with the reader for a long time, lighting up the shabbier aspects of life and making amends for betrayal and failure.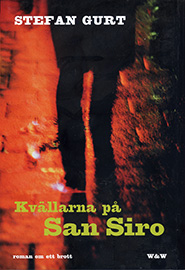 Kvällarna på San Siro (The evenings at San Siro) – 2003
After a liquid evening the journalist Thomas Wedholm wakes up together with a woman he recognizes. It is Kim, the Korean girl, he had a relationship with long ago. But how did she get into his flat? And why can't he remember anything from the previous night?
The mystery deepens when he is called out to cover an arson case in a run-down summer cottage area outside Stockholm. The clues lead him into a circle of people more ruthless than he believed possible – neoNazis, smugglers and murderers. And in the middle of it all is Kim. In danger? Or herself a danger?
"The evenings at San Siro" is a dark, dense novel about the consequences of a crime, recounted with psychological acumen and a feeling for life's randomness.